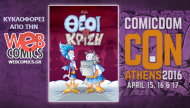 GODS IN CRISIS Comicdom-con signing
Saturday 16/04 and Sunday 17/04 I ll be at the "Comicdom-Con 2016" (Greek-American Union, Massalias 22, Athens) and I ll be signing my new graphic novel "THEOI SE KRISI (GODS IN CRISIS)" that has just been realeased in Greek, at the "Webcomics" booth. From 13:00 to 14:00 and from 17:00 to 18:00.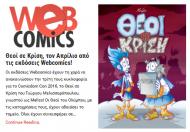 GODS IN CRISIS in greek from webcomics
I am very glad to announce that my graphic novel «Nom de zeus» which was published in french by the editions M'edite, will be published in greek by the publisher «Webcomics» (webcomics.gr) in April 2016 at the comicdom-con fest in Athens! After that you can find it in the greek book and comics shops in Greece.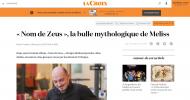 Pages