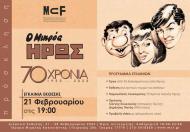 exhibition: 70 years Mikros Iros
It is a great pleasure and honor to participate in the "70 years of Little Hero" exhibition. ! In the exhibition, in addition to my participation, you will find works by great Greek artists on the theme of the heroes of the unique Stelios Anemodouras. Opening 21/2 at the Michalis Kakogiannis Foundation, time 19:00.
Exhibition - 70 Years Little Hero
Mikros Iros Publications - Mikros Iros Publications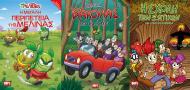 3 new comics I did for Oops Comics!
3 new comics, for kids and adults, that I created for Oops Comics! VRACOULAS 2, ELITSES 3, THE SCHOOL OF ELVES! They are available from December 19th in bookstores and comicshops all over Greece!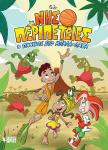 A dark smoke covers the Island of the Sun! Shelly and Starfizz discover that it comes from the volcano of Ball-Lava Island! So, they decide to travel to the volcanic island to see what's going on. There, they will discover a tribe of gentle natives, but also a group of Wildsaurs who will challenge them... to a Buzz-Ket match! Our heroes may have no idea about this sport, but Kun-Mpo, a brave boy who knows the sport, will help them... But is this enough to defeat the Wildsaurs? And what will happen to this volcano at last?
It will be available from September 15 in bookstores nationwide, from "Mikros Heros" publications
https://www.mikrosiros.gr/graphic-novels/nisoperipeteies-3
Pages